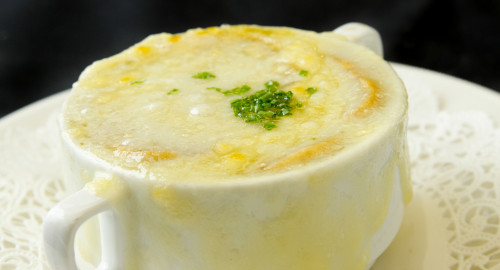 Appetizers & Salads
Appetizers
Crab Bisque
Puréed aromatic vegetables with lump crab meatin a delicately seasoned cream reduction.
French Onion Soup
A traditional classic topped with gruyere cheese.
Coconut Shrimp
Plump colossal ocean shrimp lightly breaded and rolled in freshly ground coconut, then lightly fried. Served with an orange ginger sauce. (Gainesville Location Only)
Saucy Shrimp
Jumbo garlic shrimp with citrus and ciabatta croutons. (Ocala Location Only)
Crab Cakes
Three jumbo lump crab cakes served with lemon beurre blanc.
Calamari
Tender calamari lightly dusted with semolina flour and fried with fresh sliced fennel and red onion, served with our zesty remoulade sauce.
Colossal Shrimp Cocktail
A steakhouse classic served with either our spicy cocktail sauce or our zesty remoulade sauce.
Grilled Stuff Portobello Mushrooms
Wood fired and topped with marinated tomatoes and buffalo mozzarella. Drizzled with aged balsamic and basil oil. (Gainesville Location Only)
Bacon Wrapped Scallops
Lightly crusted giant sea scallops wrapped in crispy apple smoked bacon with fresh mango salsa and a hint of chipotle honey sauce.
Traditional Escargot
Six large escargots sautéed in a herbed garlic butter, topped with asiago cheese.
Lobster Escargot
Six large chunks of lobster tail sautéed in a herbed garlic butter, topped with asiago cheese.
Ahi Tuna
Fresh tuna crusted in sesame seeds. Thinly sliced and served with wasabi cream and soy saki mustard vinaigrette.
Salads
Original Bleu
A generous mix of romaine, spring greens, red pepper, tomatoes, Granny Smith apples, red onions, toasted almonds and dried cranberries. Served with our unique Big Bleu dressing.
Chop Salad
Chopped iceberg and romaine tossed with red onion, egg, bacon, diced tomatoes, bleu cheese crumbles, hearts of palm and artichokes in our special chop house creamy vinaigrette.
Sliced Tomato & Onion
A sliced Beefsteak tomato topped with Maytag Bleu Cheese crumbles and red onion served with herb vinaigrette on top of field greens.
Lettuce Wedge
Full wedge of chilled iceberg lettuce topped with fresh diced tomatoes and bacon crumbles. With choice of dressing.
Caesar
Crisp romaine tossed with garlic croutons, our rich Caesar dressing and reggiano parmesan. Topped with shaved parmesan cheese. Anchovies available.
Sliced Tomato & Fresh Mozzarella
A sliced Beefsteak tomato topped with fresh mozzarella on a bed of mixed greens and herb vinaigrette.
All Dressings are made in house following our exclusive recipes: Classic Herb Vinaigrette, Mark's Unique Bleu Cheese, Balsamic Vinaigrette, Peppercorn Ranch, Creamy Italian Vinaigrette. Add Apple Smoked Bacon Crumbles to any salad...95¢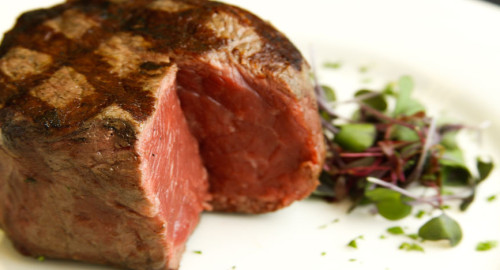 Entrees
Steaks with Passion
Mark's Prime Steakhouse is passionate in serving you the finest USDA inspected beef. We cook our steaks over a wood fired grill with a touch of salt and the world's finest pepper, then we serve them on a hot plate sizzling in butter. Let us know if you prefer extra butter or none.
Petite Filet
7oz. portion of the leanest and most savory, tender cut of American beef.
Delmonico
16oz. An exquisite U.S.D.A. Prime Ribeye. A well-marbled taste celebration.
Filet Mignon
A generous 11oz. full cut portion of this classic favorite.
Porterhouse Pork Chop
Porterhouse Pork Chop bronzed in a light seasoning. A fabulous taste sensation with a side of chipotle honey sauce.
Bone In Ribeye
20oz. U.S.D.A. Frenched bone-in Prime cut for the ultimate steak experience.
New York Strip
14oz. U.S.D.A. Prime beef that has it all... firmer texture yet tender and full flavored.
Surf and Turf
Petite Filet served with a cold water butter poached Lobster Tail.
Steak Complements
Cold Water Lobster Tail
Grilled shrimp Or Scallops
Oscar Style
Maytag Bleu Cheese Crusted
Bearnaise or Hollandaise sauce
Brandy Peppercorn Sauce
Demi Glaze
Herb Butter
Horseradish Sauce
Truffled Foie Gras Butter (Ocala)
Fresh Seafood
Fresh Catch
Market Fresh Fish specially prepared daily.
Grouper Santa Fe
Fresh grouper lightly bronzed, served with fresh mango salsa and topped with jumbo lump crab meat sautéed in cilantro-lime butter.
Wood Grilled Salmon
North Atlantic salmon served with a dill beurre blanc.
Twin 8 oz. Cold Water Lobster Tails
Two 8 oz. tails broiled, grilled or house favoritelightly breaded and fried.
Mixed Seafood Grill
Wood grilled jumbo shrimp, scallops, half lobster tail and our fresh catch of the day. Served with our lemon buerre blanc.
Jumbo Sea Scallops
Pan seared sea scallops in a creamy asiago basil sauce, served with fettucine. (Ocala Location Only)
Seared Diver Scallops
Five Seared Diver Scallops with a cilantro, lime, garlic Gremolata, served over lemon buerre blanc with a hint of lobster oil. (Gainesville Location Only)
Lobster Fettucini
Fettucini tossed with sautéed tender lobster, served in a lobster cream sauce.
Other Entrees
Spinach Asiago Chicken
Fresh airline cut chicken breasts pan seared, stuffed and baked with fresh spinach, asiago cheese and crimini mushrooms.
Mark's Ultimate Burger
10oz. fresh ground USDA Prime Beef with caramelized onions, apple smoked bacon and choice of cheese, served with french fries.
Tenderloin Tips
Sauteed filet mignon tips in our brandy peppercorn sauce and served with mashed potatoes.
Cauliflower Steak
Marinated and grilled on sauteed spinach topped with fresh tomato Basil parmesean. (Ocala Location Only)
Sides & Desserts
Potatoes
Mashed
Mashed and whipped Idaho potatoes.
Lyonnaise Potatoes
Pan roasted to a crispy finish in duck fat with caramelized onions.
Jalapeno Au Gratin Potatoes
Sliced potatoes, creamy cheddar cheese and a hint of jalapenos. (Ocala Location Only)
Twice Baked Potato
Baked, blended with boursin cheese and scallions topped with cheddar cheese, bacon crumbles then baked again.
Lobster Macaroni
Serpentini Pasta and lobster chunks in a three cheese sauce, topped with a parmesan panko bread crumb topping.
Fingerling Potatoes
Crispy pan fried with rosemary and garlic butter.
Sides
Fresh Seasonal Vegetables
Bacon Roasted Brussel Sprouts
Seasonal Rissoto
Chef's special of the day. (Ocala Location Only)
Sautéed Mushrooms
Fresh Crimini, Shitake Mushrooms.
Add Hollandaise or Bearnaise.
Desserts
Chocolate Paradise
Rich chocolate mousse with Oreo Kahlua crust finished with Hazelnut cream, raspberry puree and toasted almonds.
Fresh Seasonal Berries and Sorbet
Includes fresh whipped cream.
Creme Brulee
Classic Creole egg custard with fresh berries and mint.
Banana Walnut Bread Pudding
Bananas, walnuts, raisins and our house bread cooked with our rich rum custard and served with a Crown Royal Anglaise and caramel sauce.
Homemade Cheesecake
Chef's cheesecake of the day.
Haagan-Dazs Vanilla Ice Cream
Delicious Vanilla Ice Cream.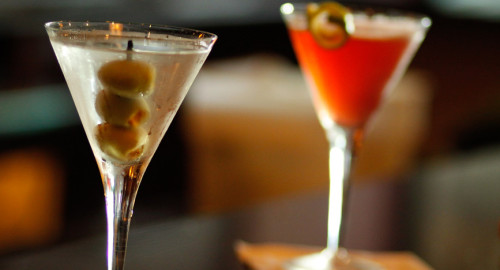 Wines & Cocktails
Wines by the Glass
Access Our Full Wine List Here
Red Wines
Cabernet Sauvignon
Beringer, 'Knights Valley', Napa
Souverain, Alexander Valley
Sebastiani, Sonoma
Chateau Ste. Michelle, Washington
Merlot
Northstar, Washington State
Markham, Napa
Niebaum Coppola, Napa
Pinot Noir
Adelsheim, Willamette Valley, Oregon
Artesa, Carneros
Brancott, New Zealand
Classic Reds
Newton, Claret, Napa Valley
Ruffino Reserva Ducale Chianti Classico, Italy
Joel Gott, Zinfandel, California
Casa Lapostolle, Carmenere, Chile
Terrazas, Malbec Reserva, Argentina
White Wines
Champagne
Nicolas Feuillatte, Brut, Rose, France, NV 187ml
Perrier Jouet Grand Brut, France, NV 187ml
Roederer Estate, Brut, Anderson Valley, NV
Chardonnay
Jordan, Sonoma
Ferrari Carano, Reserve, Alexander Valley
Rodney Strong, 'Chalk Hill', Sonoma
A by Acacia, California
Classic Whites
Conundrum, California
Cloudy Bay, Sauvignon Blanc, Marlborough, New Zealand
Schloss Vollrads, Riesling, Germany
Ca'Montini, Pinot Grigio, Italy
Matua, Sauvignon Blanc, Marlborough, New Zealand
Cht. Ste Michelle, Riesling, Washington State
Beringer, White Zinfandel, California
Martinis & Cocktails
Access Our Scotch/Bourbon List Here
Cinful Martini
Absolut Vodka infused with cucumber, watermelon vodka, and fresh basil.
The CEO
Chopin vodka, chilled, stirred not shaken served with gourmet olives.
Upper Manhattan
Knob Creek Bourbon, splash of sweet vermouth, garnished with luxardo cherries.
Dirty Bird
Grey Goose Vodka, olive brine and a mist of dry vermouth.
Old Fashioned
Crown Royal, sweet vermouth, muddled orange and luxardo cherries.
Bellini Tini
Absolut Mandarin Vodka, champane, peach schanpps, orange juice and peach puree.
Classic Sidecar
Courvoisier VS Cognac, Cointreau liquor, fresh lime juice.
The Vesper
Absolut Vodka infused with cucumber, Tanqueray Gin, and St. Germain.
Pink Squirrel
White Cream de Cacao, Creme Noyeaux served chilled and frothy.
The Secretary
Belvedere Vodka, Grand Mariner, fresh lime juice, and a splash of cranberry juice.
Espresso Martini
Espresso, Skyy Vodka, and Tia Maria.